20 Pieces of (Unsolicited) Business Advice For 20 Years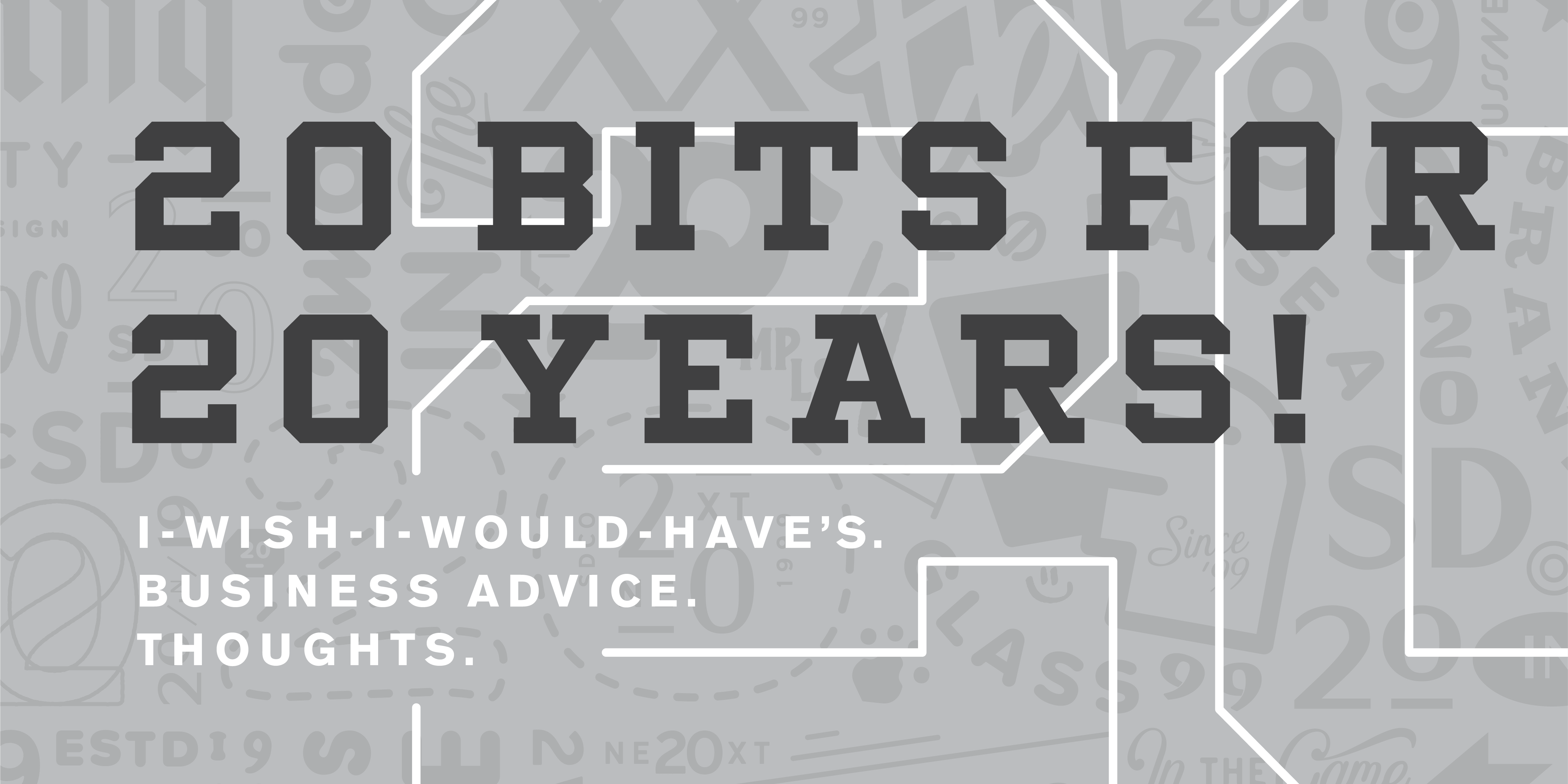 20 Pieces of (Unsolicited) Business Advice For 20 Years
As we wrap up our Cheers to 20 Years, we thought we'd take a moment to reflect on just how far we've come. I've collected a grab bag of thoughts, random musings, and a few things we've gleaned from an industry that never ceases to amaze me. May you find this useful, relatable, and, hopefully, somewhat amusing. 
Call me anything—but please just call.
People have been mispronouncing my last name (my first name too!) forever, and it bothers me not at all. Call me anything you like, just so long as you call me. FYI: It's Soosner — as in Dr. Seuss-ner ;).
A computer has never designed anything.
In 1995, this was the headline on a poster version of my resume in college. The sentiment still holds true 25 years later. The Mac was a well-established tool of our trade even then, and most designers — myself included — we're blown away by its capabilities. But without the person and their ideas behind it, the computer is still just a bucket of bolts.
Design tools have come a long way.
Long before InDesign, Illustrator and PDFs, the prevalent design software was PageMaker, FreeHand and a version of Photoshop without layers (you seasoned designers know what I'm talking about) and then QuarkXPress. We made countless trips to the art store for X-Acto Blades, presentation boards, Zip disks and spray mount.
Don't be afraid to kick it old school.
Texting, emailing, posting to Basecamp, Slacking — all good things. But if you want something done right the first time, pick up the phone and call.  Chances are you'll get twice as much done in half the time and you'll establish something I like to call: a relationship.
The marketing tactics have changed.
When we started SDCo 20 years ago, there were successful design firms whose primary source of revenue was designing and printing annual reports. Then along came the PDF, and seemingly overnight those businesses had to adapt or die. I still think about all the designers, printers, photographers, re-touchers, and writers who were affected by the arrival of the pdf, stock photography and crowdsourcing.
I Wish I Would Have #1
Joined an executive peer group like Allied Executives, EO, Vistage and CEO Roundtable years ago. I always thought executive peer groups were "networking" time-wasters. We've been members of Allied Executives for two years and can't imagine how our business survived without the benefit of people we can trust to challenge our thinking, expand our point of view, offer us new ideas, and even give credence to what we're already thinking.
I Wish I Would Have #2
Implemented EOS sooner. The Entrepreneurial Operating System takes a holistic, self-sustaining approach to building a great company. It's helped us articulate our vision, build accountability and create a healthy, functional and cohesive team. Some people refer to this as "Traction", the name of the book by Gino Wickman. (I'd recommend reading "Get a Grip" first.)
I Wish I Would Have #3
Set better goals. A business plan helps you articulate who you are, why you do what you do, and who you do it for. It helps you set big goals and then break it down into smaller, more manageable steps. EOS's version of a business plan is called a Vision/Traction Organizer. It took us 18 years, but we finally have a plan. Better late than never!
I Wish I Would Have #4
Embraced sales. I'm still traumatized by the experience we had with a door-to-door Kirby Vacuum salesman when I was a kid. It skewed my entire vision of selling anything. I've since learned that sales is simply talking with prospective clients about their business problems to see if our services can help them overcome their challenge. I don't even think of it as sales anymore. Or even a pitch. It's a conversation.
My Favorite Recent Reads
The E-Myth Revisited (Michael Gerber)
Rocket Fuel (Gino Wickman and Mark Winters)
Building a Story Brand (Donald Miller)
Patrick Lencioni – anything he's written
The Win Without Pitching Manifesto (Blair Enns)
Grit (Angela Duckworth)
Solve For Happy (Mo Gawdat)
Best Business Advice I've Received #1
Treat everyone equally. Whether  it's the CEO of a Fortune 500 company or a student you're interviewing for an internship, treat them with the same level of respect. Don't be talked down to and don't be condescending. You've heard of "six degrees of separation." In the Twin Cities, it's closer to two. It's a small world, and treating people with respect makes for a more pleasant place to live and work.
Best Business Advice I've Received #2
Your business needs to have a position. In marketing terms, you must differentiate if you want to stand out from your competition. Figure out how to make your business more relevant, but to fewer people. In other words, specialize. If people don't know how you're different from other businesses in your industry, and what you can do to help them, they won't hire you.
Best Business Advice I've Received #3
Your brand is NOT the hero. Your customer is. When we learned how to talk about what we do from the point of view of what our customers want, it was a total gamechanger. It turns out, when you make your customer the hero, you become the Guide. And that's when your customers see something in you that they can't get anywhere else. 
Three Things
Here's another kernel of wisdom that was shared with me many years ago that I try to pass on whenever I can. When it comes to your profession — be it a job, a career or a calling — there are three things to strive for: 1. Love what you do. 2. Love who you work with. 3. Be compensated fairly for your work. And don't settle for less than two out of three. If you're able to land all three, you're living the dream.
Working "in" vs. working "on" the business.
There's a balance between working in the business — doing all the day-to-day things — and working on the business — which includes things like measuring, goal setting, and planning. If you don't pay attention to both, you end up spending too much time on just one, and your business will suffer.
Imagine a future without Futura.
I'm a graphic designer that went into business, not a business person who chose the field of graphic design. I'm still a creative at heart and very much appreciate and admire beautiful design, typography, color, photography and language. However, I still despise the typeface Futura and logos with lightning bolts, eyeballs and lightbulbs. I'm sure I've been guilty of having used them all at some point, but they're too easy, expected and entirely overused.
Hang in there, it's worth it.
If it's worth doing, you have to know that some days will be great and some will suck. When it does suck: 1. Embrace the suck. 2. Screw up the courage, passion and perseverance to follow through.
Dogs make the day better.
We've had canine mascots since day one when Daisy the Bulldog would spend her work day slobbering, farting and sleeping. Dogs force us to take breaks, they boost morale and they are the ultimate test of new client relationships. 
For the people, by the people.
Clients are, of course, the lifeblood of our business. Without them, we're done. So, finding and keeping them is Priority 1A. Priority 1B? Attracting and retaining a team of great employees and partners that fit our culture and core values so we can serve said clients.  
So much gratitude.
I'm so grateful for the clients, employees, business partners, vendors, competitors, family members, colleagues, peers, and industry associations that have touched Sussner Design Company over the past two decades. THANK YOU!
Here's to the next 20 years,
Derek Sussner
#SDCo20in19
P.S. If your business is celebrating a milestone anniversary, you have a unique opportunity, dare I say obligation, to share your hard-won accomplishments with your audience. If you're up for a cup of coffee, let's talk about how to leverage your exploits in a market-friendly way. I'd love to hear your voice, but email is just as good: derek@sussner.com. You deserve someone in your corner to help you and your brand stand out.