Environmental Signage Spruces up Skyway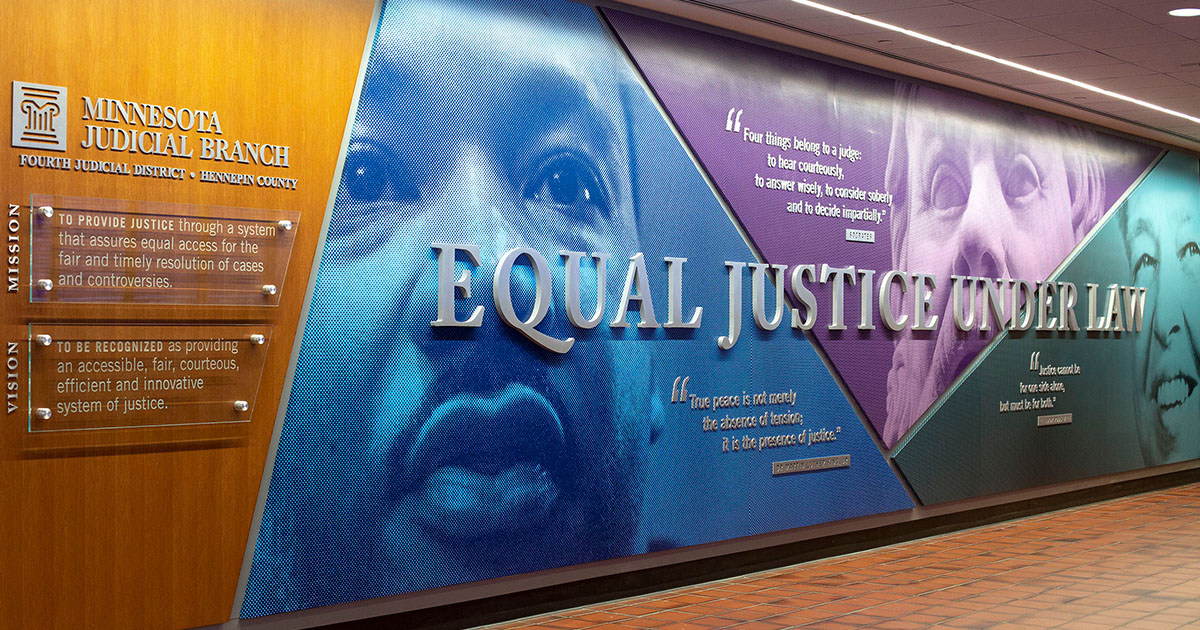 What is Environmental Signage?
SEGD describes it best, "Environmental Graphic Design embraces many design disciplines including graphic, architectural, interior, landscape, and industrial design, all concerned with the visual aspects of wayfinding, communicating identity and information, and shaping the idea of creating experiences that connect people to place."
Hired to make an impact.
Hennepin County District Court hired Sussner Design Company to design an experience in an area that had been largely ignored. The enormous wall that led to the HCDC stood empty for years, covered with a dated blue fabric. We met with the key stakeholders to discover their objectives. The group understood environmental branding benefits and as a result, HCGC allowed us to think BIG. We created a wall that educates, informs and engages their varied audiences.
We listen to our clients.
Staying politically neutral is important to the HCDC. Because of that Martin Luther King, Eleanor Roosevelt, and Socrates are historic icons that represent HCDC well. We used a photographic treatment that helped enlarge and print their iconic images. Their inspirational quotes are cut out of metal letters and pinned to give the environmental signage dimensionality.
We also printed HCGC's Vision and Mission on clear acrylic adding more dimensionality to the wall. It was important that these statements stood out from the rest of the graphics.
Because of safety reasons, the wall was designed with no ledges so items couldn't be hidden. The wall needed to be durable and withstand possible vandalism.
In the end, the Hennepin County District Court was extremely happy with the result. They have had received many compliments. The wall should withstand the walking traffic and stay up for years.
We love to extend branding throughout spaces.
We design environmental signage, for many of our clients such as  United Sports Brands, ThreeBridge, Capella Tower and AT&T Tower. Please call us if you would like us to design environmental signage or office signage for your company.
Thanks to Paul Gate Architecture for including us!