United Sports Brands
CLIENT
Brand Extension, Environmental Graphics, Print Collateral
TACTICS
In the beginning there were five distinct and established sporting goods brands—one of them, our beloved client McDavid. Thanks to the refreshed attractiveness of McDavid, a merger was conceived and United Sports Brands emerged. A collective of Shock Doctor, Nathan Sports, Cutters Sports, XO Athletic and McDavid USA now form a powerhouse force in sporting gear. We were tasked with extending USB's fledgling identity, guiding their efforts in branding their new flagship corporate office and keeping that creative wave flowing into sales materials. The big goal: bring five dynamic players together to work from the same game plan.
OBJECTIVE
EXPANDING INTO A NEW SPACE
For our first engagement USB came to us with their new logo already in place, looking to carve a home out of their newly built house. We took their identity and gave it depth as we worked through eight areas of their new office space. Great effort was put into making sure the signage carried all five of the brands with equal weight, while also planning for the future. Pieces were created modularly whenever possible, to allow the integration of brands acquired in the future.
I've had the privilege of working with the SDCo team for more than 7 consecutive years, and each year they continue to amaze me—what a dependable, smart, resourceful and tremendously talented team! Our new HQ graphics have a modern, cohesive look, impressing visitors and employees alike.
Mary Horwath, Senior Vice President Marketing
"
"
LUNCH TIME: The environmental branding isn't just for visitors; USB's employees enjoy a playful food-centric mural in the break room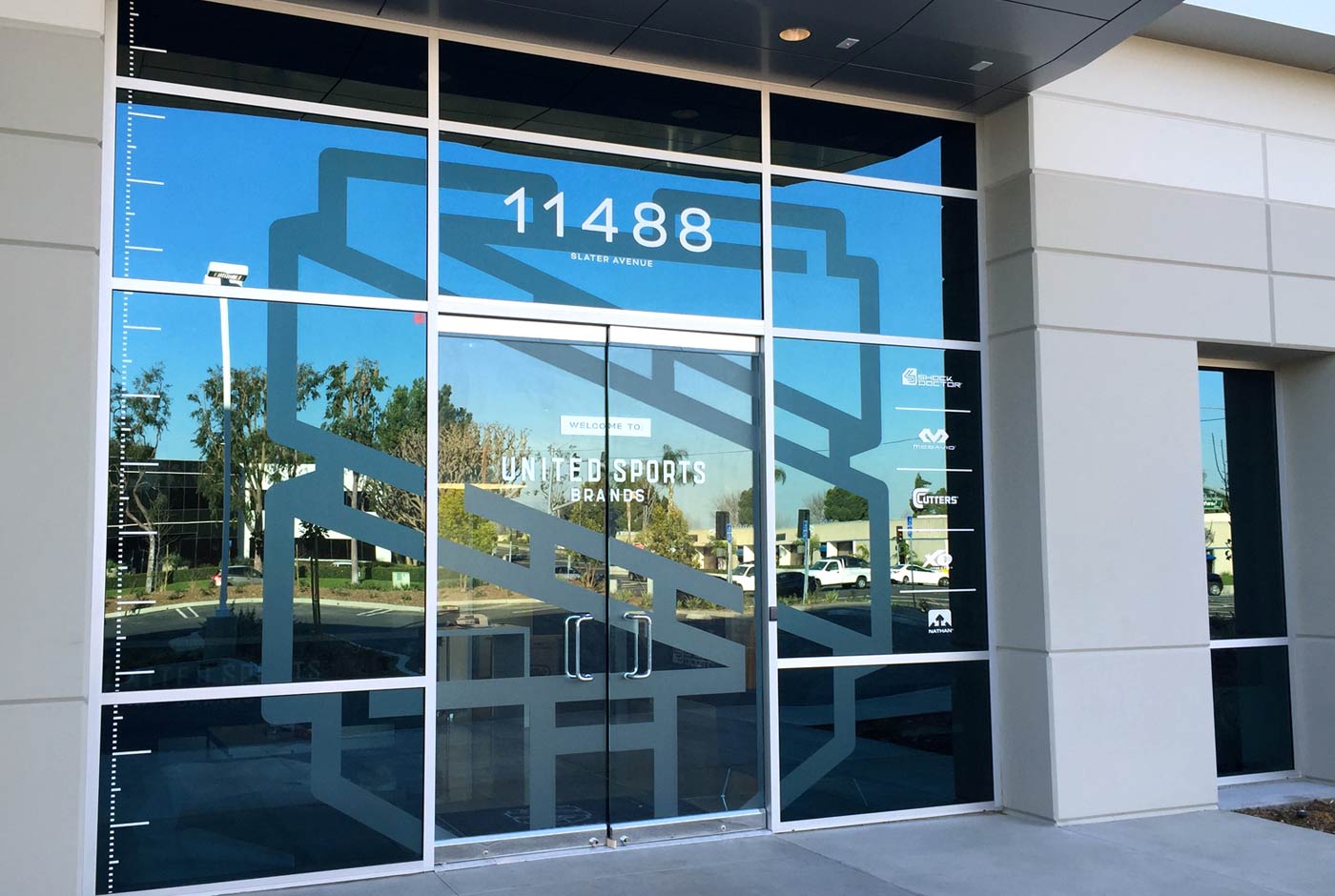 WELCOME TO USB: Layers of vinyl graphics make for a momentous main entrance
SHOWROOM WRAP: The USB tagline and graphically-treated photography provide a branded backdrop to meetings in the showroom, without distracting from the matter at hand
FLAG FIXTURES: Custom fabricated flags line the marketing department hallway, flying the brand colors proudly
MARKETING DEPARTMENT: The marketing team thrives on inspirational messaging, so this wall-long mantra keeps everyone united and energized
INKING UP
Following on the heels of branding the USB office environment, we jumped into printed materials to support their next year of product innovation and sales. A short run of books—the First Look Book—was created as a preview for key account holders to drool over. Then we jumped into the fully detailed, highly technical, heavy lifting product listings in the 186-page Annual Catalog. These companion books kicked off the new USB venture and showed buyers that these guys are no joke!
2017 FIRST LOOK BOOK—ENVELOPE: Custom die-cut, sealed envelopes are given to key accounts in a for-your-eyes-only fashion
2017 FIRST LOOK BOOK—COVER: Inside the envelope is a debossed, prong clip bound book, offering key accounts an editorialized preview of the latest offerings from each brand in 2017
2017 FIRST LOOK BOOK—INSIDE: Each story offers a taste of the latest hot tech or cool look that USB's five brands have been developing for 2017 (without giving too much away)
2017 ANNUAL CATALOG—COVER: Photography from each of the brands was integrated to form an action-packed, unified cover for the USB inaugural catalog
2017 ANNUAL CATALOG—SHOCK DOCTOR: Each brand section was separated by a tabbed divider with oversized logo and a unique flood of color and texture
2017 ANNUAL CATALOG—SHOCK DOCTOR: Inside the branded sections, products are grouped and listed with all the attention they would normally receive in a stand-alone catalog
2017 ANNUAL CATALOG—McDAVID: Each brand section was separated by a tabbed divider with oversized logo and a unique flood of color and texture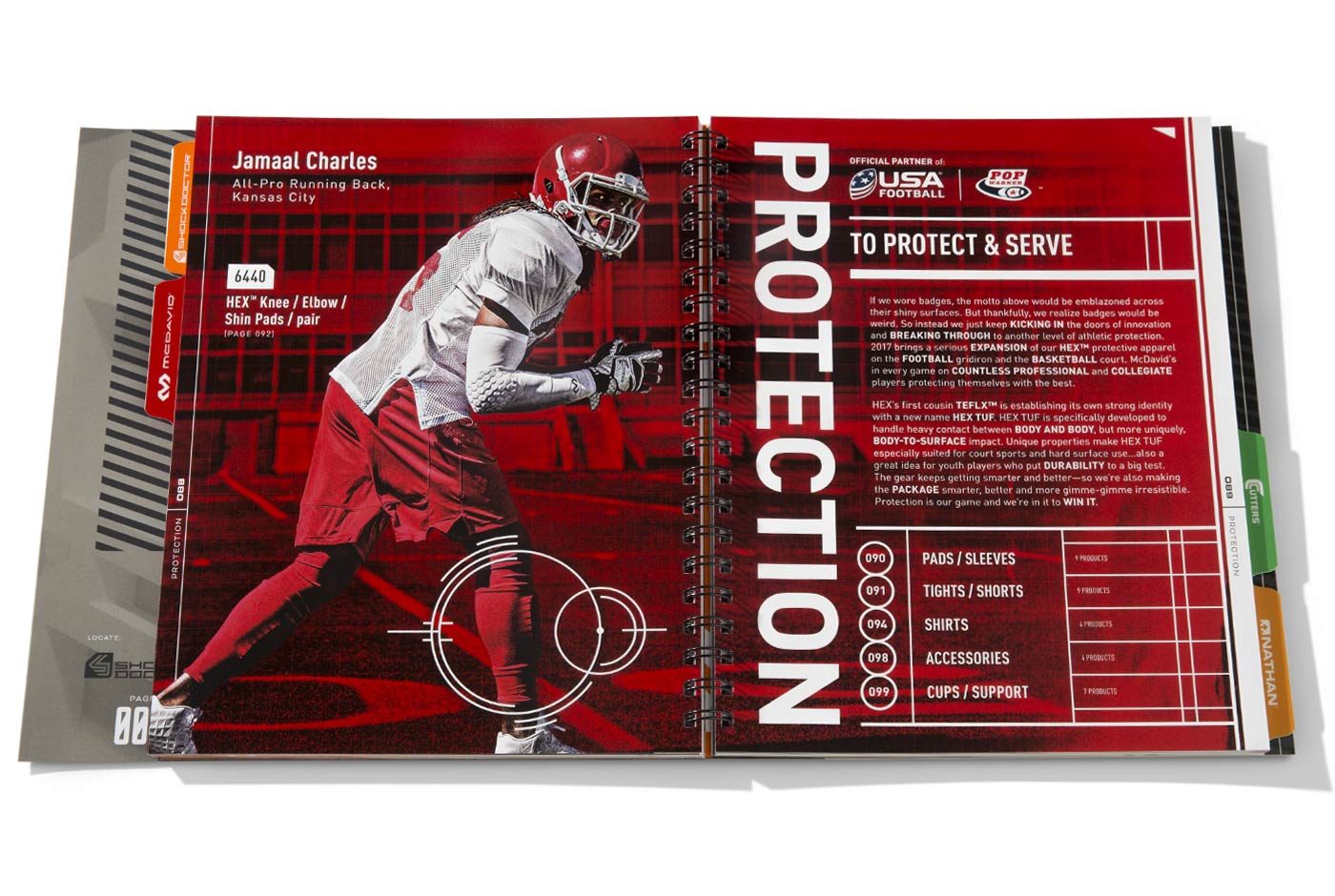 2017 ANNUAL CATALOG—McDAVID: Inside the branded sections, products are grouped and listed with all the attention they would normally receive in a stand-alone catalog
2017 ANNUAL CATALOG—CUTTERS: Each brand section was separated by a tabbed divider with oversized logo and a unique flood of color and texture
2017 ANNUAL CATALOG—CUTTERS: Inside the branded sections, products are grouped and listed with all the attention they would normally receive in a stand-alone catalog