Management Consulting
INDUSTRY
Branding, Website, Environmental Graphics & Signage, Print Collateral
TACTICS
ThreeBridge offers top-tier consulting to Fortune 500 companies. They came to us for rebranding after the success we achieved together with their junior consulting division, Boom Lab. The previous ThreeBridge logo featured a literal bridge with dated colors and typography. They asked that we create an identity that better supported the sophistication and ingenuity ThreeBridge had come to offer. Additionally, we were to think of ThreeBridge as the parent in an expandable system of sub-brands. From one side to the other, SDCo took ThreeBridge to a refreshed and revitalized place.
OBJECTIVE
LOGO REDESIGN: The bridge icon was replaced with three lines in motion, ricocheting and sure in their trajectory. The hexagonal shape is a tie to the Boom Lab logo (their junior consulting division).
We've been working with Sussner for seven years across two brands and dozens of projects, and they've delivered every time. You can see in their finished product that they care about and understand our business, which is why we'll be working together for another seven years.
Charlie Anderson, Partner
"
"
RECEPTION: The refreshed lobby area featuring wrapped desk, wood wall, dimensional logo and cut window vinyl.
CO-BRANDING: ThreeBridge shares the space with their junior consulting division, Boom Lab.
TAGLINE: The company's three services have become a pseudo-tagline and rallying cry.
DIMENSIONAL LOGO: Thick formed letters were created and offset from the new wood wall, lit from above with spotlights to cast deep shadows.
WINDOW VINYL: Cut lettering greets employees and visitors to the interior office.
TALENT, TRAINING & ADVICE
Every ThreeBridge project is approached a little differently, with a solution that's tailored to deliver the most effective results. Hey, that's our strategy too! That attention to detail and thoughtfulness informed a list of words that set the tone for the brand. Words like "crafted" and "aware" mixed with words like "relatable" and "genuine" to form a deeper understanding of what the name ThreeBridge was to represent. We envisioned things like hand-built, leather briefcases, smart but sensible dress shoes, bright and open floor plans and a freshly grilled salmon sammy for lunch.
WEBSITE REFRESH: The web experience saw a major upgrade, moving to a responsive format with more spacious, minimal layouts.
SOLUTIONS: Each of the company's major Solutions now has a dedicated page, with animated, editable graphs to illustrate the metrics of ThreeBridge's success.
CAREER LISTINGS: Job postings are now integrated and easily updatable, to ensure that positions are posted in a snap.
SOLUTION ICON SYSTEM: Boom Lab set a precedent for the sub-brand system, using hexagonal icons to represent each ThreeBridge Solution.
BLUE CHIP
One of the words ThreeBridge use to describe their clients is "blue chip." This was a definite part of the ThreeBridge culture and it guided our design efforts. Their consultants rub elbows with the top brass in major companies and the visual system now supports that position. ThreeBridge's white collar environment has provided opportunities to produce some fun promotional materials with that audience in mind. Shown here is a golf ball marker (a literal "blue chip") for meetings on the links.
IT'S ALL IN THE LITTLE DETAILS
Our approach with ThreeBridge was to infuse their desire for minimalism with just the right, important details. Crafted but never gaudy or overly designed. Items like the business card show off this approach, with letterpress and embossed elements, combined with sandwiched paper and a corner cut to 30º (to match the geometry of the hexagonal logo).
JUNIOR DIVISION: The Boom Lab identity was created to appeal to a younger audience of consultants just emerging from college.
WEBSITE: An interactive infographic set the tone for the Boom Lab web experience—intelligent, playful and driven.
WEBSITE DETAIL: The playful tone continued into the site's illustrations, showing what Boom Lab has to offer.
WELCOME GIFT: To welcome new consultants to the team, each employee receives a screen-printed box with a pint glass and introductory package.
PINT GLASSES 1-3: The employee pint glasses are redesigned annually, making them a sought-after piece of glassware.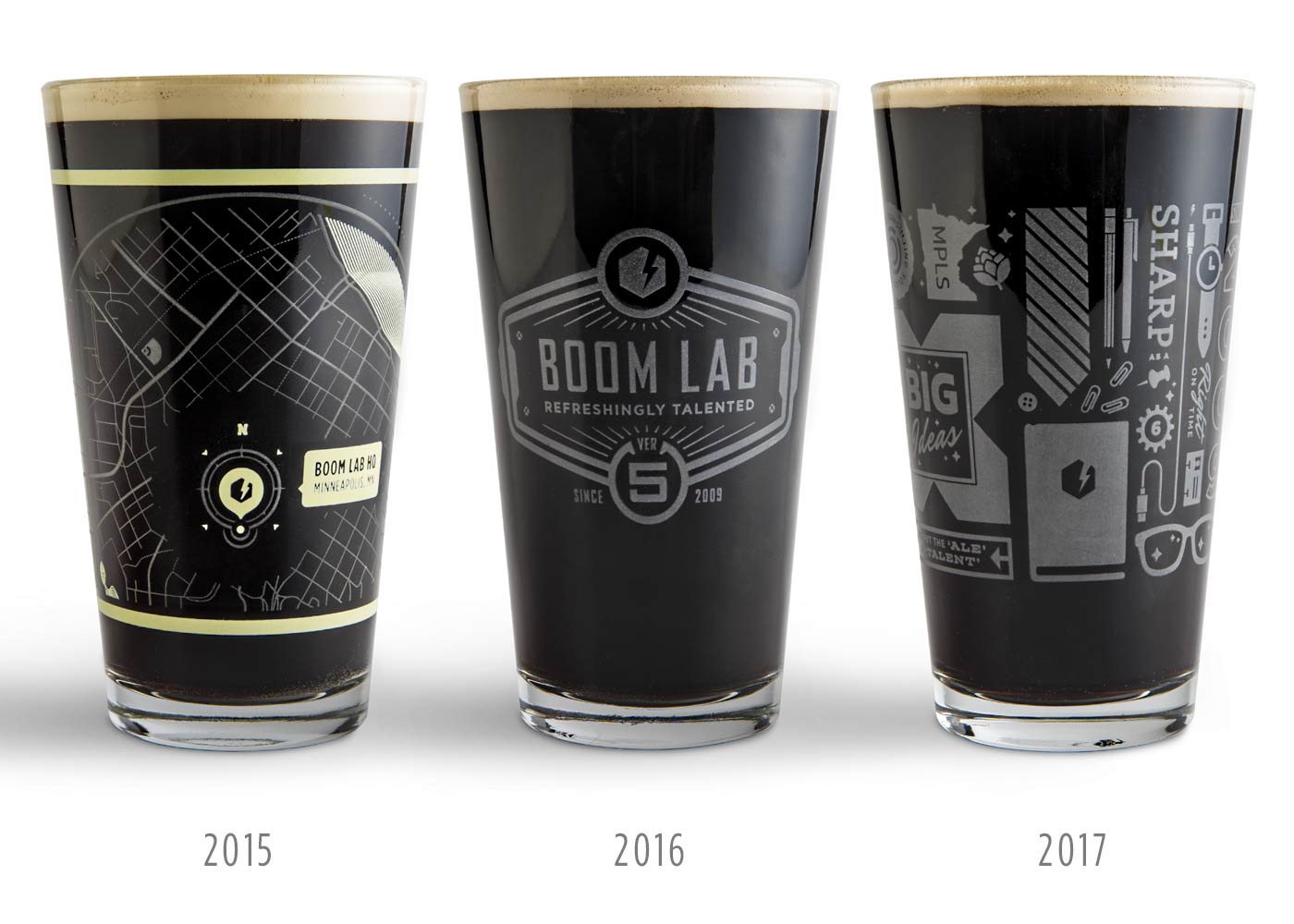 PINT GLASSES 2-6: The employee pint glasses are redesigned annually, making them a sought-after piece of glassware.
CAREER FAIRS: Since a lot of Boom Lab's recruitment happens at college career fairs, a series of banner stands were created to help explain the various career tracks.
RECOGNITION: