Rockler Woodworking
CLIENT
Woodworking Tools and Hardware
INDUSTRY
Identity Refresh, Signage
TACTICS
Rockler is a proven, trusted and established brand in the world of power tools, carpentry and woodworking. Our job order was to construct a new veneer over their strong framework. Rockler needed a renovation, but not a re-invention. We created materials that built on the Rockler name and equity. We brought the brand up-to-date and out of the woodshed by addressing both the pro tradesperson and the handy craftsperson. We built it and they came.
OBJECTIVE
SHOW US YOUR PLANS
Rockler came to us to upgrade the interior wayfinding signage for all of their stores. The refresh needed to be more uniform, user friendly and inspirational. It was imperative that the new signage was easily changeable and did not block visual merchandise. Currently, the stores were very cluttered with poster boards and accessible paper displays, making them easy to change but it created an overwhelming congested space. SDCo offered alternate solutions that would be cost effective and also communicate the sophisticated craft of woodworking.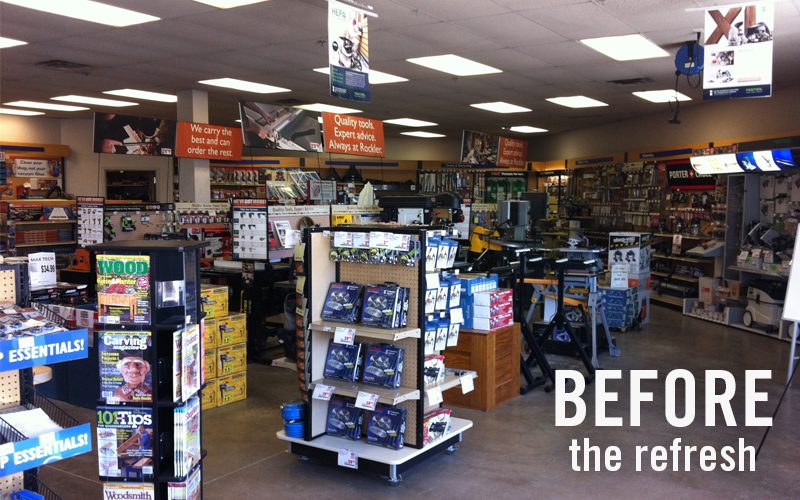 "We are very proud of the work we did with Sussner, and the results have been outstanding. Rockler couldn't be happier with the visual and financial changes the new signage has brought to our stores. It's a very cool bonus that the work was published in HOW Magazine! Thanks to Sussner for everything they did."
Mike Dugan, Executive VP Operations
"
"
CREATE WITH CONFIDENCE
Rockler wanted to inspire customers of all woodworking levels, from expert to beginner, to create. By designing an inviting atmosphere and decluttering the shoppers view, different projects were more prominent and engaging. Tool sections became less daunting and more encouraging and convenient. With the help of very friendly staff, the customers were more likely to try projects they haven't thought of with ease. After researching the best use of the space, we considered which wood, height and fixture style would be the most beneficial to the evolving stores.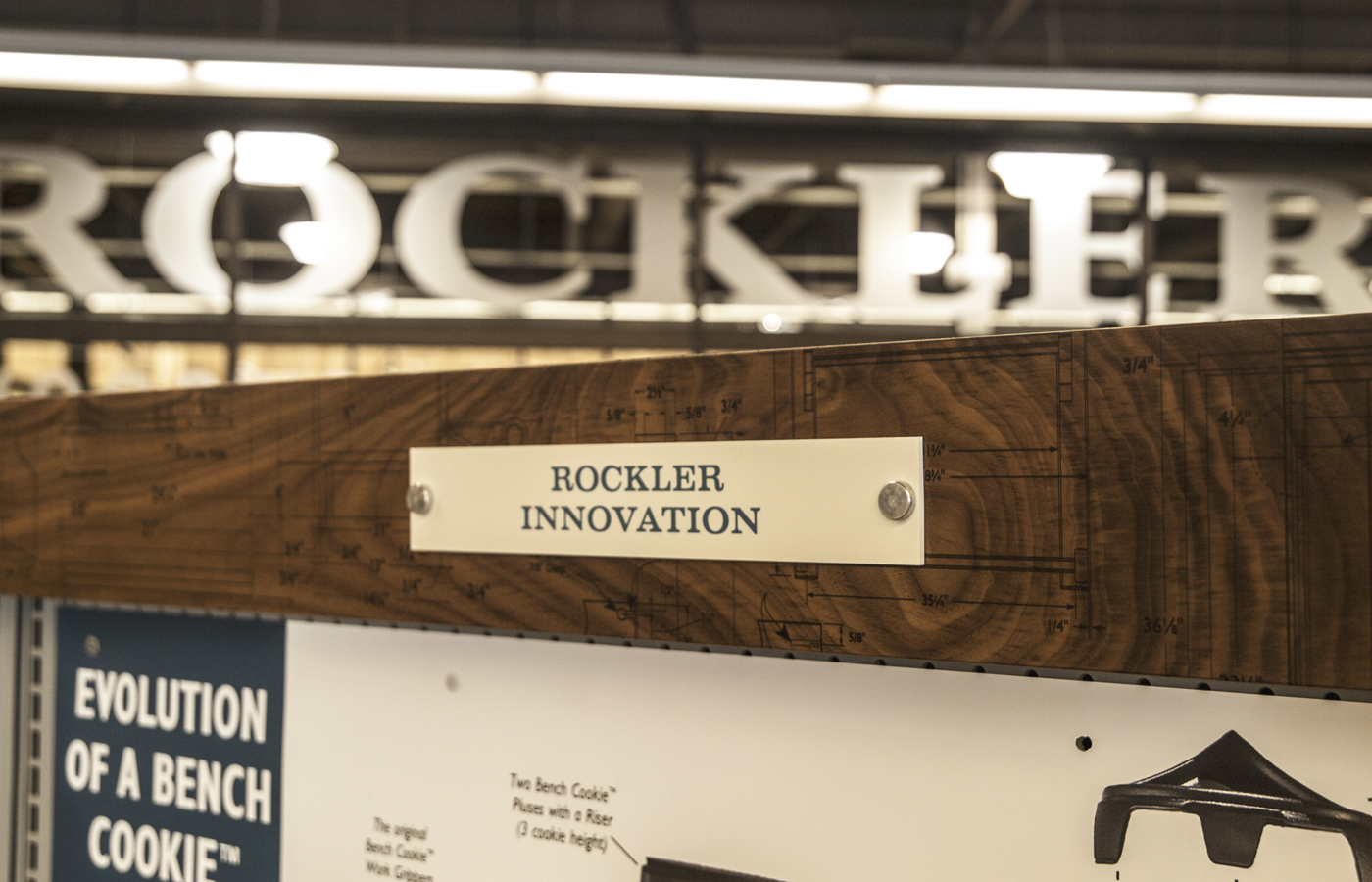 WAYFINDING: By using wood as the main fixture, it made the space more sophisticated and genuine to woodworking
WAYFINDING: We simplified the hanging signage which allowed them to blend in while still being distinct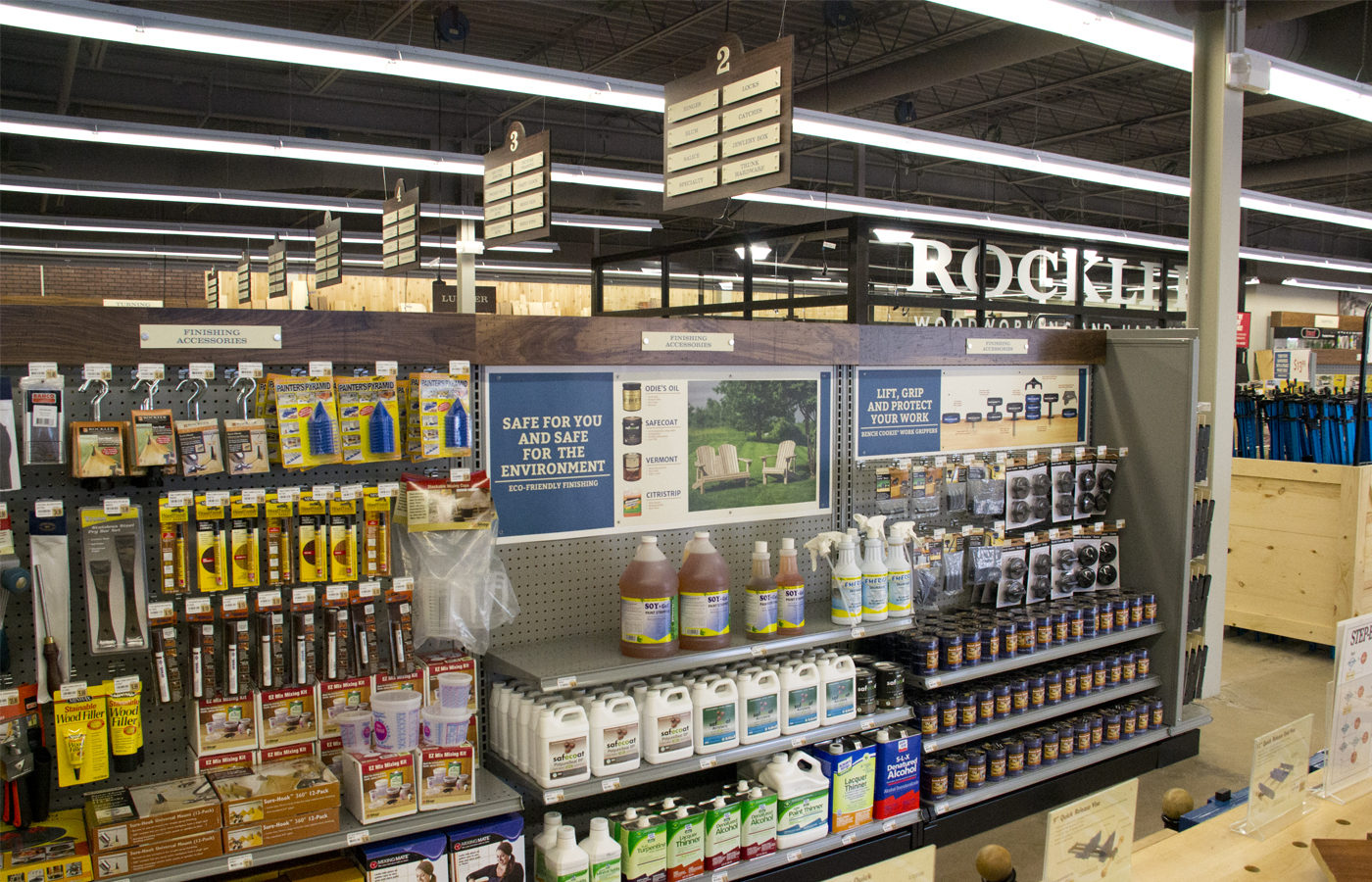 WAYFINDING: Invisible wire was used to create the floating fixtures making them refined and orderly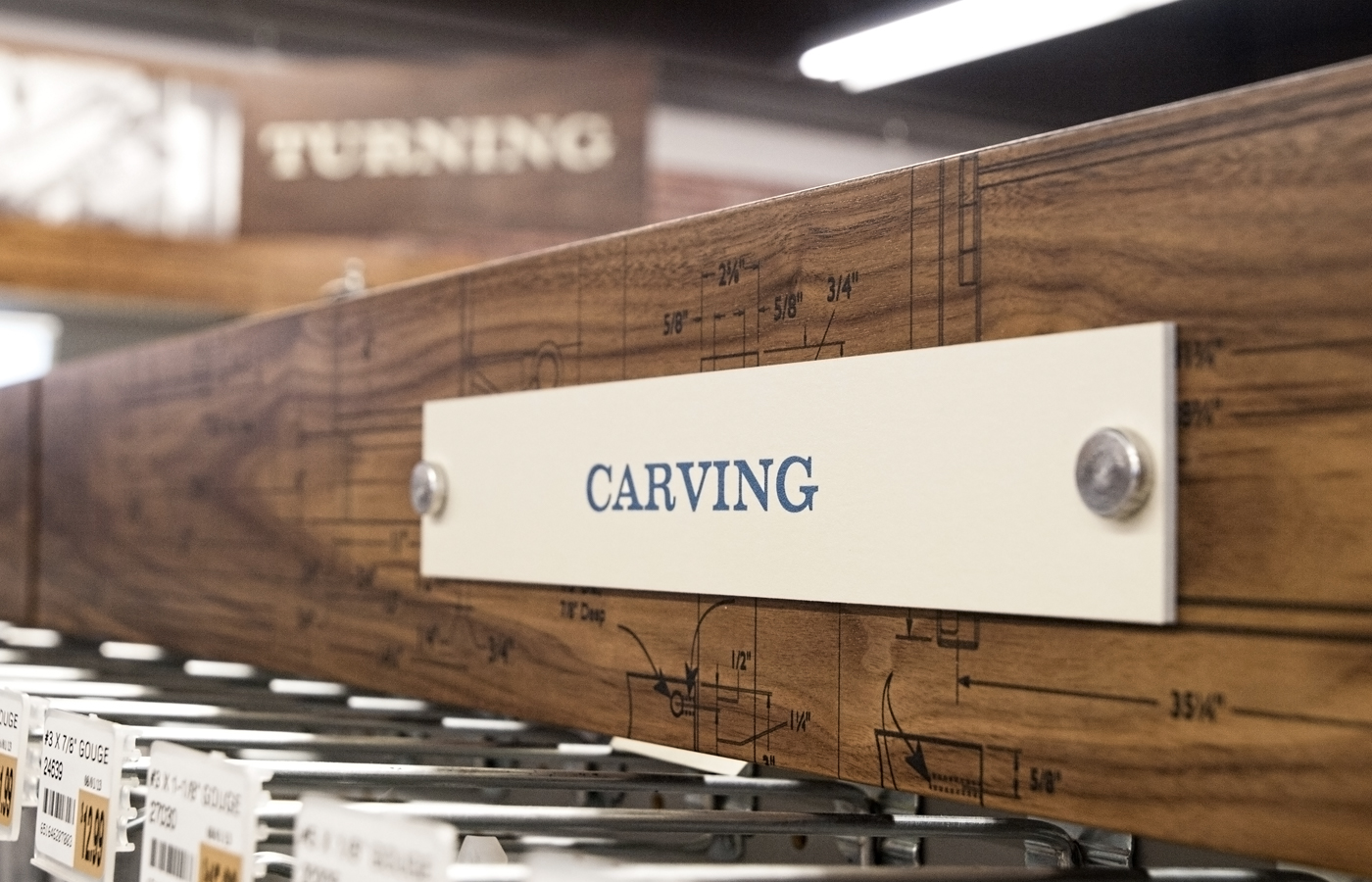 WAYFINDING: The wood is semi-permanent, but the actual fixtures and labels are easily changeable; accommodating all locations and planograms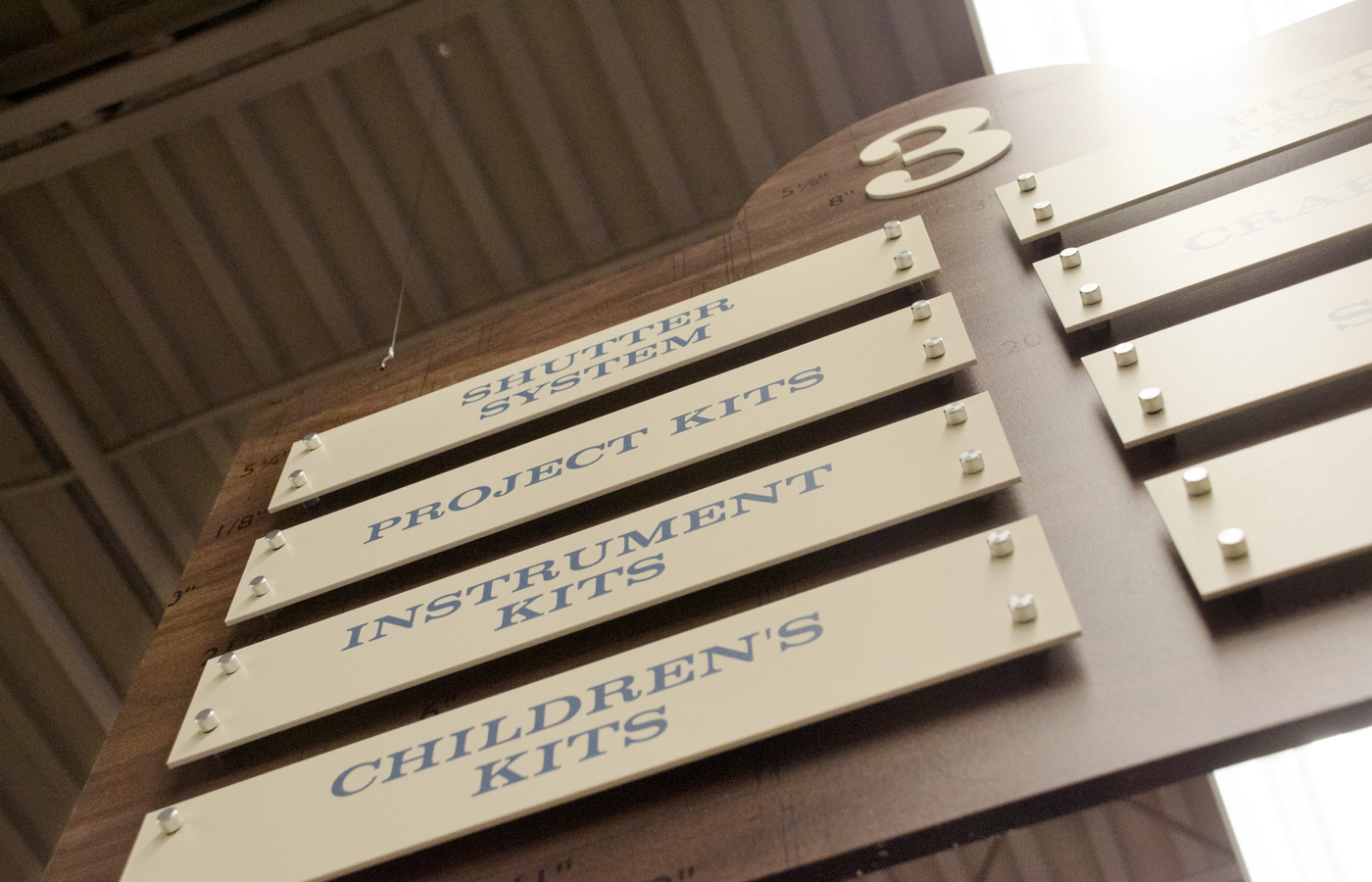 WAYFINDING: We added depth to each sign to increase legibility and hierarchy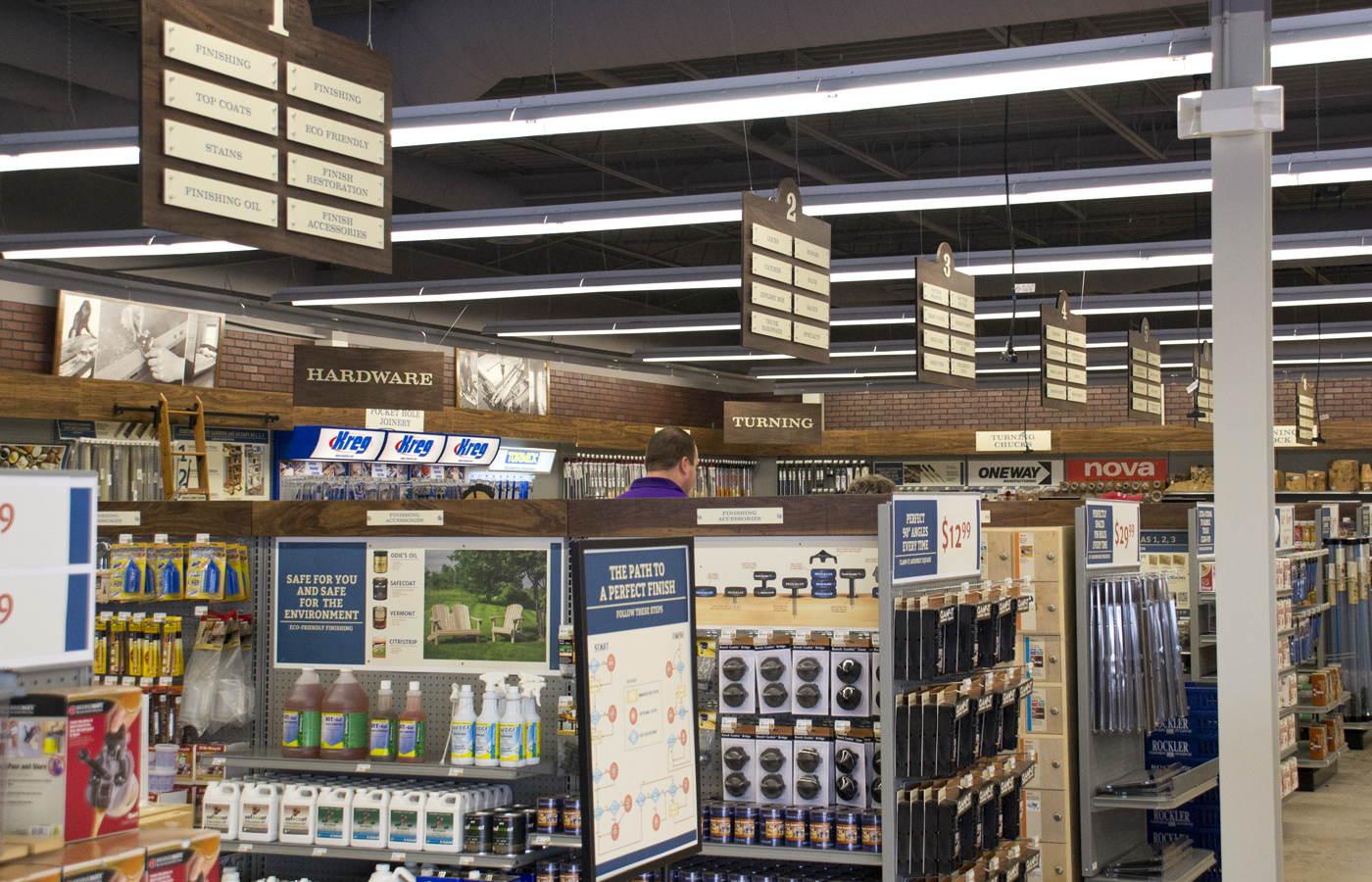 WAYFINDING: Organized and uniform signage with a warm aesthetic created a more open and inviting space
HOW GOES THE PROJECT?
In order to inspire fellow woodworkers to expand their skills, Rockler held classes right in the store for all customers to enjoy. These classes would entice customers to frequent the store more often and also create a community within the woodworking world. By keeping the branding minimal, as to not out-stage the learning opportunities, a simple frosted logo above eye-level gave it a bold statement without interfering.
CLASSROOM SIGNAGE: The classroom is the first thing noticed when walking through the door, the strong branding makes for a substantial statement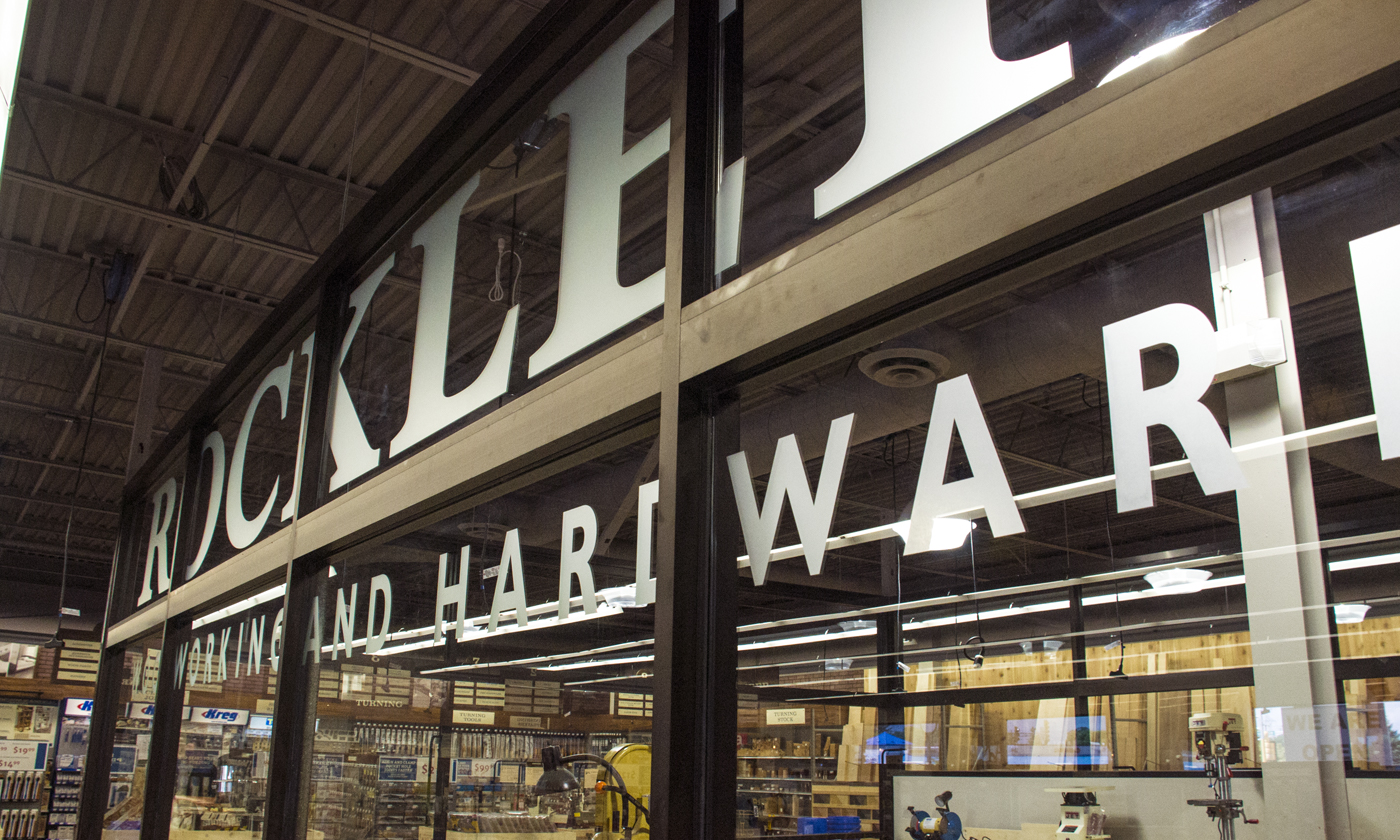 CLASSROOM SIGNAGE: Clean cut vinyl continued the sophistication of the refurbished space
CLASSROOM SIGNAGE: The graphic was strategically placed so it would not obstruct or discourage onlookers from participating in Rockler's innovated opportunities
RECOGNITION:
+