Oh sure, we have the gadgets and the gizmos and the magnetic wall for attractive ideas and even the table that goes "ping" and "pong." All good. All helpful. All right. But, nothing, absolutely no thing, not technology, software or cool digs compare to the People of SDCo. We are a place filled with easy respect, good nature, questionable humor and quietly confident, unbelievably remarkable talent. Our daily interactions refresh us, and inspire us to keep crushing it for our clients. And yes, we often have dogs here.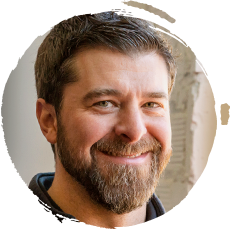 Creating goodwill & great work since 1999
Derek has a 20+ year career of creating thoughtful, effective and standout solutions for his clients. As founder and tone-setter of SDCo, D. Sussner makes full use of his complementary right- and left-brain skills. Clients are wrapped in an invisible cocoon of well-earned confidence, genuine concern and a "we've got this" attitude—all emanating from the fella with his name on the door. Derek's role ranges from positioning to creative direction to strategically walking clients down the most scenically successful and bump-free thoroughfare. Derek believes that the best moments and smartest results happen when people work with passion and purpose aimed at mutual goodness.
Applying lessons learned on the golf course to SDCo and vice versa (no full swings in the office).
Adding to his impressive collection of black concert t-shirts (commitment to his t-shirt graphics standards).
Grew up watching another Mr. Sussner navigate his own self-employed adventure (many lessons learned).
Spends free time cheering on his two boys (and favorite sports teams and golfers).
Woman of the Year—and still undefeated
Tessa's refreshing account management style is informed by a strong background in design. As Partner and Co-Owner of SDCo, Tessa manages materials, muscles the clock and most importantly, makes every client feel that they are Sussner Design Company's one and only client. T. Sussner brings a highly machined order and inordinate amount of good nature (and yes, some sarcasm) to the SDCo operation. On a daily basis, Tessa engineers amazing bridges between client and firm and vendor and resource and the next what-the-heck moment. The lucky few have actually witnessed her move objects with her mind.
Works extremely well with others, including the other Sussner.
An indispensable (they know because they tried without her for the first couple years) part of the SDCo success.
Possesses many "Mother of the Year" mugs & finger paintings to prove her prowess in that realm.
Clients frequently respond to meeting requests with, "Tessa will be there, right!?".
Always ready to do what's next
She can alter time. She can defy gravity. She can manipulate nature. And, she can manage the hell out of any project. She is Coco McDonald. Coco possesses the skills of a sleuth, the grace of a diplomat, the patience of Job on the job and the persona we love. Coco makes us all better with her gentle, yet strangely vice-grip-like, grasp on all of the SDCo moving, whirling and spinning parts. A simple checkmark in a plain box is a work of art in Coco's world. Coco makes deadlines and pressure fun and life around here funner…yes, I said funner.
A naturally organized human being as evident by her choices of grab-and-go items from her (hypothetically) burning home: Cash. Weapons. Passport.
Teaches us all how to be faster, smarter and more efficient. Plus, she learns well from others.
Has experience managing money, marketing, "creative" types and a fresh produce stand.
Birth certificate reads, "Phyllis." Dad calls her, "PhilCo." Twin sis opts for, "Coco." Coco it is.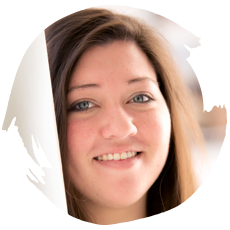 This is what she said
Tanya, or Ton, as her verbally lazy friends call her, has a long history in the arts. One of her first jobs was that of a prominent Sandwich Artiste. Amazingly, she has managed to excel far beyond Bread & Cheese Master to highly regarded graphic designer on Team Sussner. Tanya's known for her uncanny ability to express volumes with a look in her design and on her face. Ms. Naylor is a thoroughly modern design pro with bonus, old school pen-&-paper skills. We are extremely thrilled that she has locked herself to one of our desks. And that's what we said.
Senior Designer, Tanya Naylor has been delivering the graphic goodness and good humor day-in-and-day-out since the winter of 2011.
Possesses a get-er-done work ethic that started at a faux Dairy Queen at the age of 12.
Cheese curds will always hold a special place in her heart.
Post SDCo plans: Odyssey Marine Exploration.
Sound and Vision and Numerals
Ms. Faust is both calculated and spontaneous, buttoned down and raved up, freakishly precise and free spirited, rock-n-roll and sign-n-date. We love Robin for all of the above. Robin Faust keeps our columns straight and our ink black. Robin is a Controller supreme who believes if you don't have it, don't spend it, and everything is negotiable. From a 12-year old lil' Robin pitching wrapping paper to the neighbors to make skateboard cash, along a uniquely varied path she arrives at SDCo and we could not be happier. Full Disclosure: This writer has actually shared a stage with this bass-playing, exceptionally talented, precise and humane human.
Ask to see her tattoo of a rattlesnake bursting through her arm surrounded by flames (so bookkeeper-like).
Plays a wicked bass guitar.
Is currently working her dream job…now that's refreshing.