This Is Us
"DEREK" & "TESSA" FLANK THE AMPERSAND in and out of the office. But frankly, the office is what matters to you. Taking on distinct and complementary roles allows us to bring more to our clients and do more for our clients. The idea behind Sussner Design Company is that we are partners. First and foremost, we actively partner with our clients. And to make that first and foremost partnership the best it can be, we partner with a heroic collection of very talented people. No matter how a project is configured, we are the people responsible, accountable and always available. C'mon people, let's do something great.
Derek Sussner
Creating goodwill & great work since 1999
The good and great actually started years before the official unveiling of Sussner Design Company. Derek has spent a career creating thoughtful, effective and standout solutions for his clients. Integrity, talent and an unforced manner of caring and "we've got this" makes the Sussner behind the Design an industry favorite. Derek's role ranges from positioning to planning to creative direction to strategically walking clients down the most fruitful, bump-free path. Derek believes that the best moments and smartest results happen when people work with passion and purpose aimed at mutual goodness.
The Details
Works side-by-side with wife Tessa and they remain very happily married.
Takes "Dad" job very seriously and it shows.
Has a peculiar fascination with golf.
Is a frequent speaker and presenter at design events (cleans up well).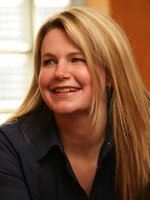 Tessa Sussner
Woman of the Year—15 years running
Tessa's refreshing account management style is informed by a strong background in design. From her domain at SDCo HQ, Tessa manages materials, muscles the clock and most importantly, makes every client feel that they are Sussner Design Company's one and only client. T. Sussner brings a highly machined order and inordinate amount of good nature (and yes, some sarcasm) to the SDCo operation. On a daily basis, Tessa engineers amazing bridges between client and firm and vendor and resource and the next what-the-heck moment. The lucky few have actually witnessed her move objects with her mind.
The Details
Works extremely well with others, including the other Sussner.
An indispensable (they know because they tried without her for the first couple years) part of the SDCo success.
Possesses many "World's Greatest Mom" coffee mugs & finger paintings to prove her prowess in that realm.
Clients frequently respond to meeting requests with, "Tessa will be there, right!?".
Coco McDonald
Always ready to do what's next
She can alter time. She can defy gravity. She can manipulate nature. And, she can manage the hell out of any project. She is Coco McDonald. Coco possesses the skills of a sleuth, the grace of a diplomat, the patience of Job on the job and the persona we love. Coco makes us all better with her gentle, yet strangely vice-grip-like, grasp on all of the SDCo moving, whirling and spinning parts. A simple checkmark in a plain box is a work of art in Coco's world. Coco makes deadlines and pressure fun and life around here funner…yes, I said funner.
The Details
A naturally organized human as evident by her choices of grab-and-go items from her (hypothetically) burning home: Cash. Weapons. Passport.
Teaches us all how to be faster, smarterand more efficient. Plus, she learns well from others.
Has experience managing money, marketing, "creative" types and a fresh produce stand.
The birth certificate reads, "Phyllis." Dad calls her, "PhilCo." Twin sis opts for, "Coco." Coco it is.
Ben Alpert
The visual voice of a generation
Been Jamin' Alpert was designed to be a designer (or anything wildly creative and mildly dangerous). Ben is a Tao vs. Dada, fiber vs. cyber, creamy vs. chunky contradiction and juxtaposition of artistic styles. Good for us. Ben Alpert is a guy who loves design for its mash-up of art and reason, who loves being on a team (or in a band) for its camaraderie and loves cheese for its, cheese. He digs manipulating reality for all to see (and hear). From alt mags to hearing aids, from pulp creations to cyber sensations, Ben is a hybrid of artistry, humility and absurdity. Just how we like him.
The Details
Mr. Senior Designer man at SDCo. Has a DNA that plays well with others, attends successfully to the miniscule-ness of this biz and frequently blows our minds with stellar work.
Has driven across the country (USofA) for no apparent reason.
Seeking a really good night's sleep.
Enjoys the Metal genre of music (which is NOT the only reason Derek hired him).
Tanya Naylor
This is what she said
Some bios write themselves (which is crazy weird). Tanya, or Ton, as her verbally lazy friends call her, has a long history in the arts. One of her first jobs was that of a prominent west coast Sandwich Artiste. Amazingly, she has managed to excel far beyond Bread & Cheese Master to highly regarded graphic designer on Team Sussner. Tanya's known for her uncanny ability to express volumes with a look in her design and on her face. Ms. Naylor is a thoroughly modern design pro with bonus, old school pen-&-paper skills. We are extremely thrilled that she has locked herself to one of our desks. And that's what we said.
The Details
Tanya Naylor has been delivering the graphic goodness and good humor day-in-and-day-out since the winter of 2011.
Possesses a get-er-done work ethic that started at a faux Dairy Queen at the age of 11.
Cheese curds? Yes, please. State Fair Cheese Curds? Get the hell out of my way!
Post SDCo plans: Ocean-based Treasure Hunter (Hey Ton, isn't that a pirate?)