NYIT Bears Athletic Brand Refresh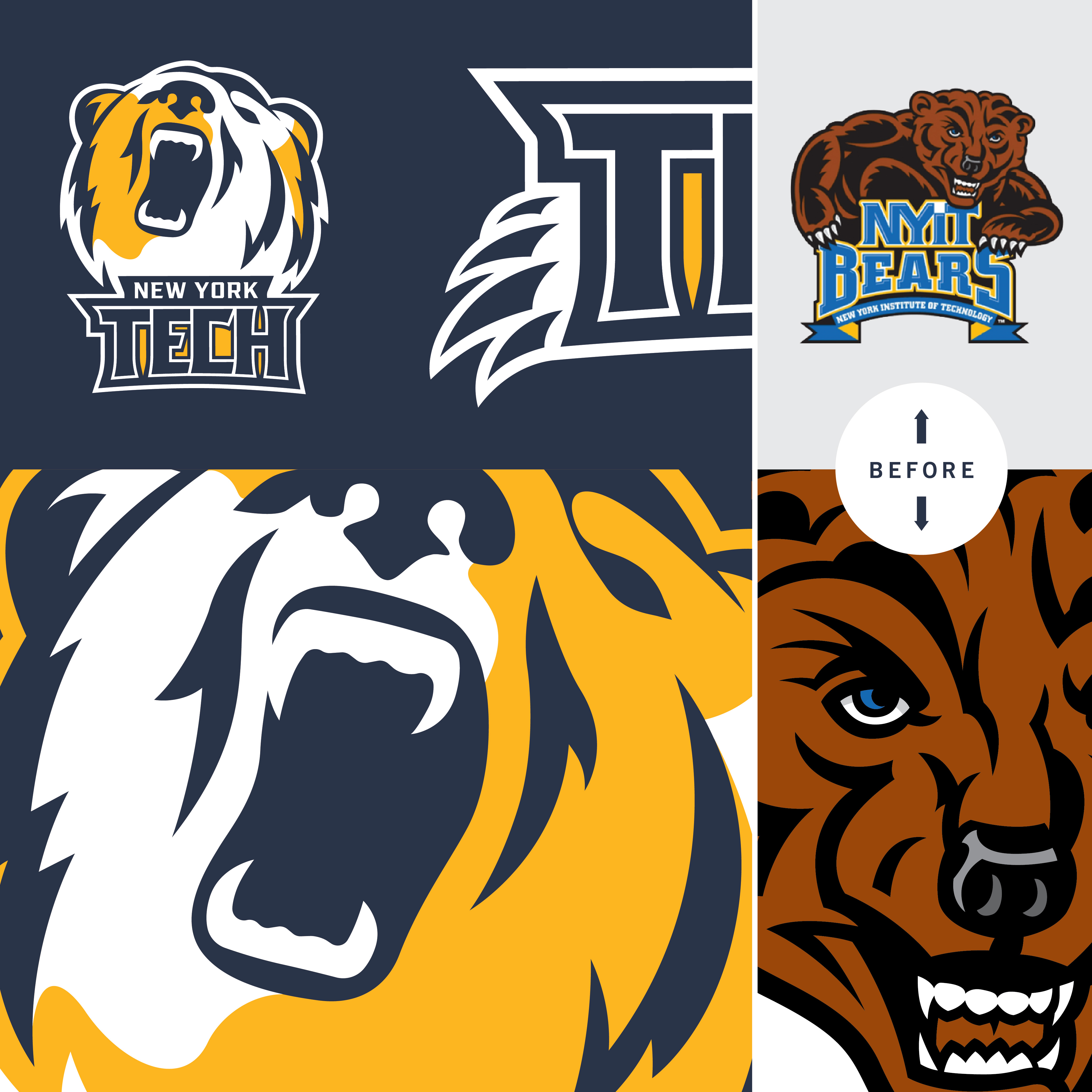 New York Tech Bears Athletic Program Branding, Style Guide and Team Uniforms
The New York Institute of Technology was looking for a creative partner to refresh their athletic program's brand. And the sports fans at Sussner Design Company were excited to help.
The Bears
With a campus located on Long Island in Old Westbury, New York, the 17 sports teams compete in NCAA Division II athletics. NYIT is a member of the East Coast Conference (ECC). The client described the existing Bears identity, designed back in the 1990's, as "dated" and "not memorable or impactful to the students". The Bears were ready for a refresh.
Goals for the Bear's Brand Identity
A few goals in mind included representing the school's vision, paying respect to the university's history, and creating a brand identity foundation that will continue to support the athletics program's brand for years to come. Meanwhile, the client noted that they want a bear logo that is crisp and flexible, fresh and contemporary, and has a fierce feel to it.
A New Brand of Bears
NYIT is known by their alumni and fans as "New York Tech". So, with the brand getting refreshed, NYIT decided to bring "Tech" back as the primary name. To help with Tech's brand update, various word marks were created with custom typefaces and numbers. And to honor the school's history, we brought back the program's historical blue and gold colors. Subsequently, once the new Bear logo was complete, the refreshed brand was applied to the uniforms for all the men's and women' sports teams'.
In the future you can find their new identity extensively on:
• marketing and branding initiatives,
• fan wear, such as t-shirts, sweatshirts and apparel,
• team uniforms, athletic apparel and spirit wear (in conjunction with Under Armour).
NYIT's Press Release
With an updated identity helping create fresh, relevant and exciting engagement with athletes and fans, we are excited to see Tech's school spirit in action out on the fields and on the courts.
• Check out NYIT's official press release for the new logo here.
• Interested fans will be able to buy gear with the new Bears logo soon at their merchandise site.
Go Bears!
How Can We Help You?
If you would like to grab a cup of coffee and talk about your team's brand identity, contact derek@sussner.com. We would love to help you and your brand stand out.
IG | Twitter | LinkedIn | Facebook
#reasonstorefresh #branding #brandidentity #sdco20in19 #NewYorkTech #NYITBears