Our Top 5 NFL Team Logos
As proud residents of Minneapolis, the host city for this year's big game, we can't help but turn our attention to the football playoffs. While we are designers, we are also fans. We don't know which team is going to win the trophy (ahem, Skol Vikings), but the fans here had some fun debating which team logos are winners and why. Let us know which logos made your Top 5!
---

DALLAS COWBOYS
Symmetrical, iconic, ultimate recognition.
Seriously, to be able to own the "star" symbol?! "America's Team."
Unified—the same logo on the helmet, jersey, ball caps. That's a versatile mark.
They've used the same symbol as their Primary Logo forever—it's stood the test of time.
---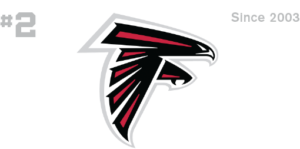 ATLANTA FALCONS
It's fast, it's strong, it's precise.
Again, unified—the same badass bird on the helmet & jersey.
The only bird logo in the NFL that shows the entire bird in flight, not just the head (see Ravens, Eagles, Seahawks and Cardinals).
---
HOUSTON TEXANS
Contemporary, active, implied motion.
Successfully implements the red, white & blue. Fitting that a team from Texas would challenge the Patriots for the USA palette.
---
NEW YORK JETS*
With a caveat… *the '80s version of the logo, without all the overlapping type.
While the Raiders and Steelers include their names in the primary logo, and the Bengals and Giants have had a logotype as the helmet logo, the Jets was best of the logotypes.
With the clever fin they managed to imply 'Jet' without showing a literal plane.
---
HELMET LOGOS
While not the primary logos, the Vikings, Rams and Eagles have got it figured out with their helmet logos.
Bold, strong and symmetrical.
They transform the player; it's not just a logo on a helmet.
---
So there you have it—our TOP 5 logos in the NFL. We're not talking favorite teams here, just design. What do you think? Let's get into it.
FYI: SportsLogos.net is where we did our research and it's a fantastic site. If you want to lose a few hours (or maybe days) looking at the history of your team's logo and uniform, check it out. It's not just the NFL either, they have every team in every league in every major sport.